A picture gallery of vacuum tube steampunk usb flash drives

I found a picture of my first four vacuum tube steampunk usb flash drives when  I was going through some of my old archived images.
These USB gadgets are made with old radio vacuum tubes, grandfather clock gears, steam pipe fittings, 8gb USB flash drives and ultra high intensity LEDs.
How to buy vacuum tubes
You can find new old stock vacuum tubes on eBay if simply do a search for "vacuum tubes". But the best way to buy them is to find a large lot of spent tubes. If you bid right you can get them as cheap as $.25 a piece. However, you'll have more than you need.
Choosing the right vacuum tube with LEDs
If you're looking to us them for your vacuum tube steampunk usb flash drives project it's good to have too many. This is because you'll need to shine your ultra high intensity LEDs into the bottom of the vacuum tubes to see which ones look the best lite up.
I've found that it takes about 10 vacuum tubes to find one that I like the looks of. Many of the spent tubes have excessive amounts of black on the inside that you can do nothing about.
But you'll a few that are superb for making vacuum tube steampunk flash drives out of.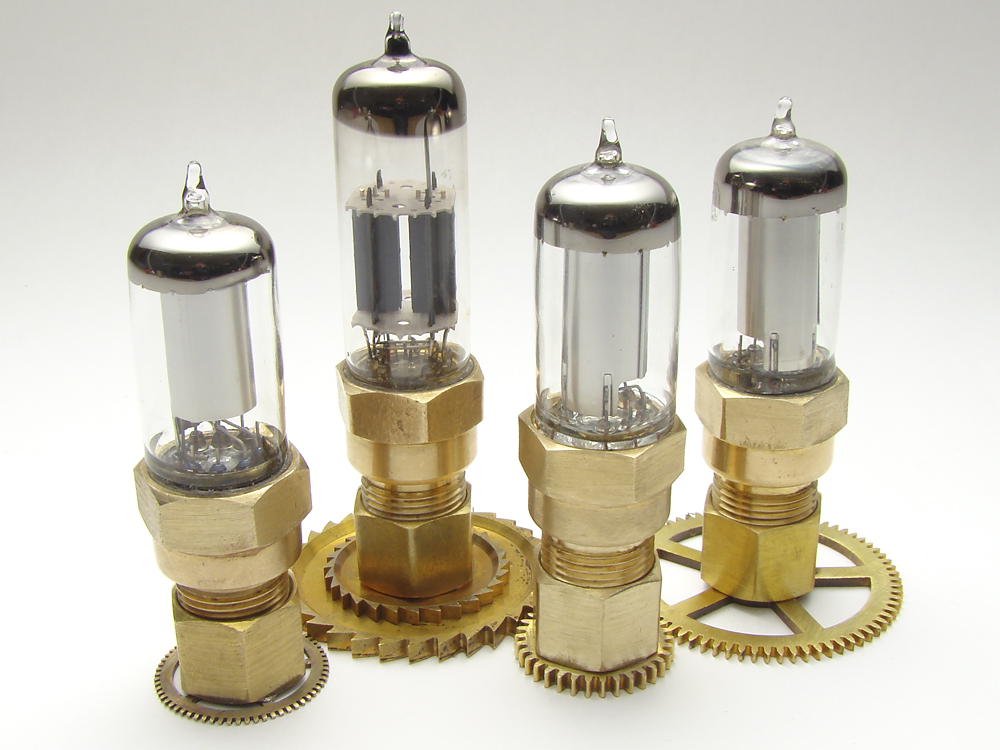 Steampunk jewelry with vacuum tubes
This gallery has vacuum tube steampunk usb flash drives and a necklace made from a very small vacuum tube. If you buy large lots of spent tube on eBay sometimes you"l find some very small ones. These are fun to use in jewelry designs.
Steampunk Nation makes some great Steampunk Jewelry designs.
Steampunk Nation's shop sections
Steapunk Nation's Shop Home
Steampunk Necklaces
Steampunk Earrings
Steampunk Bracelets
Steampunk Rings
Steampunk Cufflinks
Steampunk Lockets
Steampunk Wedding Jewelry
Steampunk USB Flash Drives
Neo Victorian Jewelry Collection
Jewelry Inspired by Nature