Friston Ho'okano has used some our steampunk supplies to make some awesome flasks!

The design inspiration is "Clockworks" and the beauty of the inner workings of a timepiece.Gears of various shapes and sizes are used in the design and are made of brass and copper. A few of the gears are true vintage gears purchased from SteampunkArtSupplies.com . In addition, the focal piece is a clockface made out of a digital image under a glass cabochon set in a silver-plated round pendant tray. 18 guage coiled brass-tone wire is used in the design to represent the tension coils in a timepiece. Brass filigree corner pieces and Red Siam Swarovski Crystals further embellish the flask giving it richness and elegance. This is a wonderful flask with iconic Steampunk representation in design.
The flask holds 8 ounces of liquid. It has a polished stainless steel finish and a screw-down cap. The Cranberry tone faux leather is treated with a special glazing application that gives a true antique feel in look and texture.
Here are some aviator inspired pieces from Designs By Friston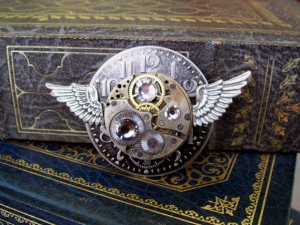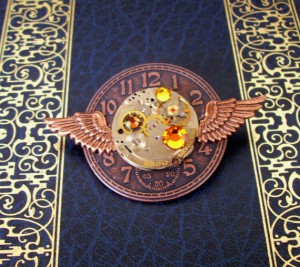 This is a dual purpose design where this piece can be a Brooch or Pendant. The pin fastener as a bail loop attached and it can be a pendant by slipping a chain, cord, or ribbon.
The design of this pin features a real vintage watch movement piece. Swarovski Crystals embellish the already beautiful mechanics of the movement piece making it a lovely piece of jewelry that sits upon a heavy silver plated brass watch face. A pair of silver plated brass wings gives this piece an Aviation look as well. This is a great pin/brooch to have that is iconic Steampunk. It makes a great jacket lapel pin or a hat pin as well!
You can fin more of Friston's art here:
Also, Friston's Face book page!